Abraham Best, Jr. (1823-1904) was born in Claverack, Columbia County, NY on September 15, 1823.  His parents were Abraham Best, Sr. (1790-1871) and Harriet Van Deusen (1787-1859).  He was one of eight children and the second oldest son.
By age 25, Abraham Best married Sarah Staats (1829-1900) on September 20, 1848 at the Dutch Reformed Church located in Colonie, Albany County, NY.  She was related to the old Dutch family of Staats.
Abraham and Sarah are listed in the 1850 Watervliet Census.
Children of Abraham and Sarah's were:
| | | | |
| --- | --- | --- | --- |
| Child | Born | Married | Departed |
| John Allen Best | 1850 | | |
| Anna Maria Best | 31 Aug 1851 | Isaac Roff | 28 Dec 1919 |
| Mary Elizabeth Best | 1853 | | |
| Helene Jane Best | 1856 | | |
| Lorraine T Best | 1859 | | |
| Miller Best | 1863 | | 1922 |
| Nellie Best | 1871 | | |
This  J.C. Sidney map of the Vicinity of Albany and Troy from 1851 shows where various families of the Boght lived.  Of particular interest are the ones who are portrayed in Descent by Sea.  There are two W. Roff (William Roff) farms to the east of Plank Road.  J. H. Runkle (John Runkle) is to the west of the road.  A little further north on Plank Road, there is a farm for A. Best (Abraham Best).  Further north just above and below the railroad line, there are Widow M. Statts and Widow Statts who were probably related to  Sarah Staats.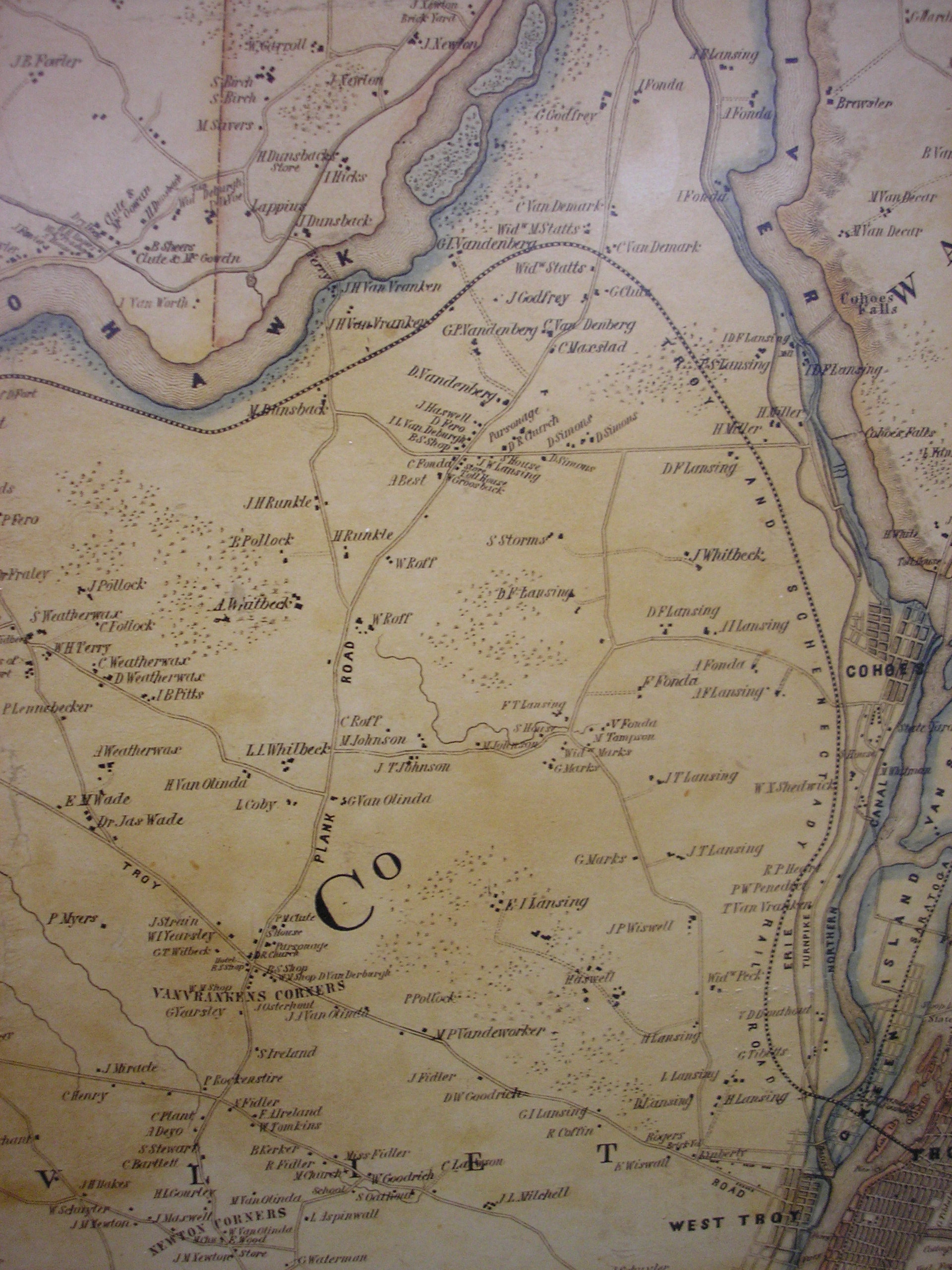 The Best Farm on Boght Road from the air.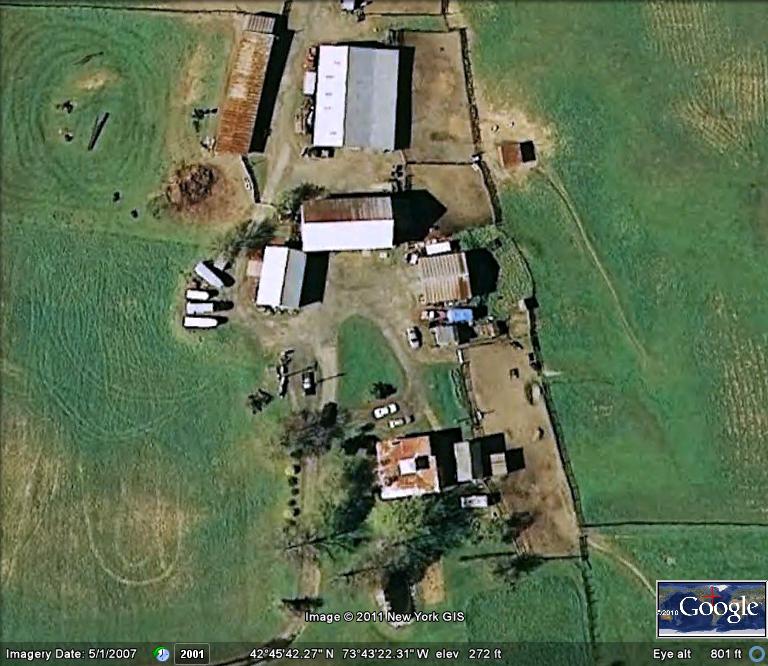 h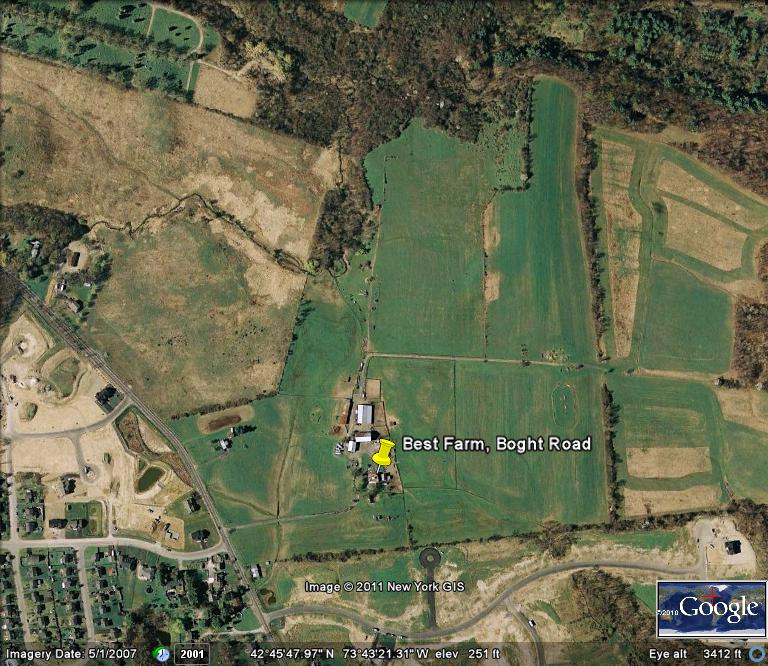 After Abraham's parents death and burial in the vault in Clifton Parks in 1871, Abraham and Sarah moved from the Boght to Clifton Park where    Abraham Best, Jr. continued to live in the family house until his death in 1904. Apparently, Abraham's older brother had been disinherited by his father and it is unclear what kind of relationship the brothers had.  The house and farm land were sold by Abraham Best, Sr.'s grandson, John A. Best to William Leversee in 1910.
An oil painting of the house painted by a member of the family in August of 1890 shows the house shuttered against the bright sun and surrounded by a white picket fence. The barn, well house and other out buildings can be seen.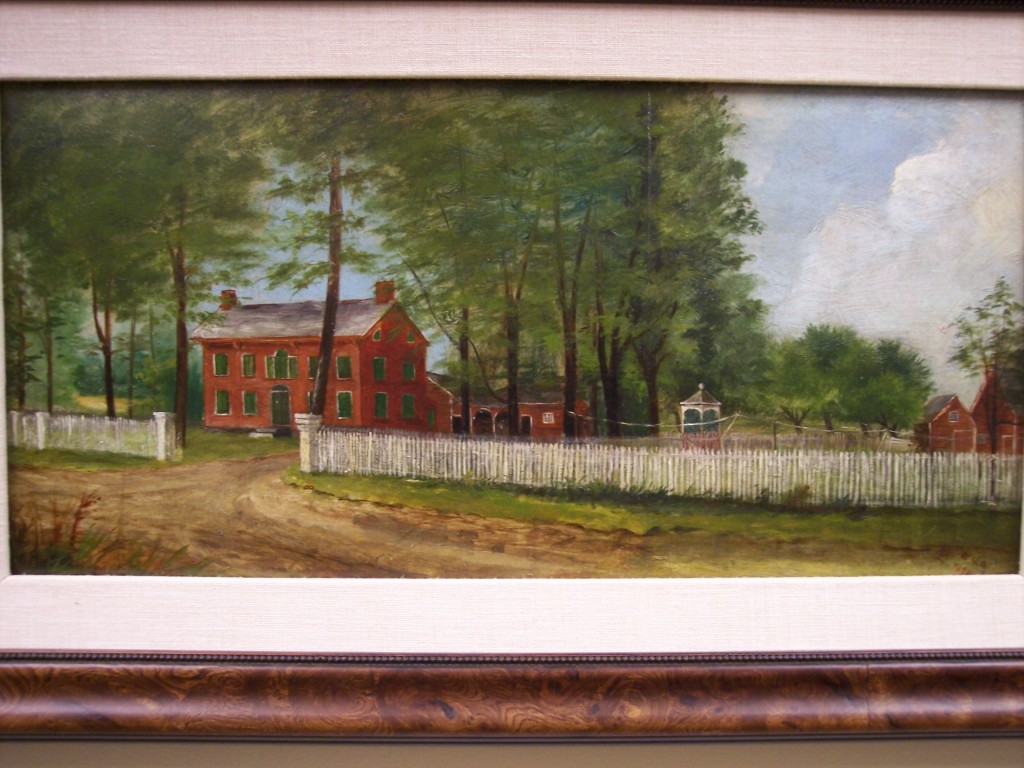 Sarah Staats Best died in 1900.  Four years later, Abraham Best died March 7, 1904 at age 80. His will is dated November 10, 1903 with Executors Isaac Roff and Miller Best. RIP
References
The Family of Best in America of Holland Descent with Copious Biographical Notes
Early Record of Dutch Reformed Church of the Boght — Becker
1850 U. S. Federal Census Watervliet, Albany County, New York
1880 and 1900 U.S. Federal Census, Clifton Park, Saratoga, NY
Special acknowledgement to John Scherer, Clifton Park, NY Historian and Kevin Franklin, Colonie, NY Historian