Captain William Bryden (1768-1840) was born in  Edinburgh, Scotland on November 21, 1767.  His baptism took place at the Canongate Parish:  "
James Breaden, shoemaker in Canongate and Elspeth Chalmers his spouse, had a son born 21st November 1767, baptised 29th said month, named William."
His parents were James Bryden and Elspeth Chalmers of Deskford on the Moray Coast just west of Banff, Scotland.   On his parents' marriage record, it notes that James was a shoemaker and Elspeth was the daughter of James Chalmer, farmer.
William was the youngest of three children which included a sister Agnes (1759-) and a brother James Bryden (1761-1820).
The children were born during the time of the Highland Clearances lasting several decades where people were forcefully displaced to the Lowlands.
In Edinburgh, it was a time of a new city plan, discoveries, and exploration.
It appears that William's brother James Bryden came to America by 1784 as his first child was baptized in Baltimore that year.  William was probably back in Scotland reaching the age of 16 and starting a sailing career.
By 1796, James had achieved success to become the owner of the fashionable Fountain Inn, "Baltimore's Best."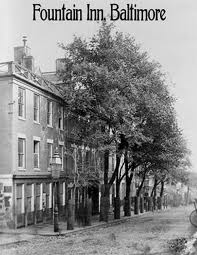 At some point, William came as a mariner to America, sailing in and out of ports.  According to a  parchment headed "N149" and dated March 23, 1790, William Bryden of the County of Philadelphia, Mariner took Pennsylvania's Oath of Allegiance.
After another five years on the sea, the Scottish records cite that on March 6, 1795, William Bryden (mariner) married Ann Veitch (father James, laborer), both of Abbeyhill, Edinburgh.
Bryden, William, mariner, residing in the Abby Hill, and Ann Veitch, daughter of James Veitch, labourer in the Abbyhill; witness, William White, gardener 06 Mar 1795
A story told years later by his future son in law Augustus Ducas Clemens describes how William decided to move to Baltimore was based on a strange twist of fate.  The time was around 1796.
Captain William Bryden, who had the command of a vessel, came into this Port for the first time and  happened to go to the Hotel bar, the man in charge asked him for his name, for the resemblance was so great between the proprietor and the Captain, when told he said, 'I believe that the proprietor of this house is your brother,' which turned out to be the fact; they had been separated since boyhood and neither had an idea that the other was living.
The consequence of this discovery was that the Captain settled in Baltimore and for forty years was a resident on the Northeast boundary of the City fronting on Loney's Lane, and for the first half of that period commanded and sailed from this Port the largest class of vessels of that day.
During William's voyages, he found his future lifelong home of Baltimore.  His older brother James had already settled there, owning a business and raising a family.   Probably married only a year or so, William brought his wife Ann Veitch to Baltimore. Records of the First Presbyterian Church, Baltimore note the September 21, 1797 baptism of their first child Ann Veitch Bryden born on August 1st.  This first daughter later married Alexander Tate.
Within a few years, widowed William Bryden married Elizabeth Goodman (1769 – 1839) on April 12, 1801.  Most information suggests that her maiden or married name was Goodman.   Elizabeth was apparently widowed and had her first children in her thirties.
| | | | |
| --- | --- | --- | --- |
| Child | Born | Married | Departed |
| Elizabeth Goodman Bryden | 2 Apr 1805 | Thomas Bonham Kinnersley, 10 Apr 1828 | 2 Mar 1842 |
| James William Bryden | 1807 | Margaret Boyd, 26 Feb 1841 | after 1889 |
| Theresa Susanna Bryden | 15 Dec 1809 | James Francis Forsythe,  10 Oct 1833 | 1882 |
|  Henrietta Matilda Bryden | 1 Mar 1812 | Augustus Ducas Clemens, Sr., 15 Mar 1841 | 30 May 1900 |
In the early 1800s during the birth of his children, Captain William Bryden was a captain of clipper ships carrying cargo to and from the West Indies, particularly Barbados and Jamaica.  At age 42 in 1810, he retired from sailing to build a house in Baltimore near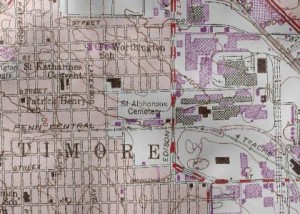 Philadelphia Road.
During first few years in Baltimore including 1803, William maintained a residence at 7, Fleet Street, Fell's Point, near the waterfront.  At the time, the area was known for the ship building of top sail schooners to be used as armed privateers.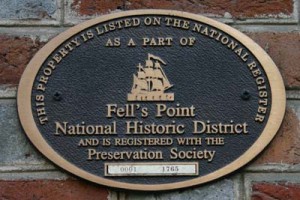 William's brother James was busy as the Innkeeper of the Fountain House.
A native of Scotland was the second innholder, James Bryden, who bought the leasehold interest of Mr. Grant in the property for £5,035 13s. and 7d., common money, and became the proprietor of the inn about September 15, 1705. He was one of the founders of the St. Andrew's Society, which held its first meeting there and many subsequent ones.
It is said that one evening shortly after the control of the National Government had passed for the first time into the hands of what is now the Democratic party, a solitary horseman in shabby clothes and dirty with the dirt of the road applied at the Fountain Inn for shelter, but the clerk refused him accommodation, and the horse man was received at a rival house nearby. Mr. Bryden's mortification was great when be learned that President elect Jefferson had been turned down. Mr. Bryden conducted the house until April 1, 1808, when he leased it for 10 years at $2,000 a year, with the exception of the last year, which was to lie $2,500, to John H. Barney, who had kept the Red Lion Tavern on the Philadelphia road, 13 miles from Baltimore', and opened a coffee house in New York City.
Capt. William Bryden became a member of the St. Andrew's Society of Baltimore, organized in 1806 of which his brother James Bryden was one of the founders.
By 1808, William's brother James Bryden, sold the Fountain Inn in Baltimore and  moved to New York City, according to the February 28, 1808 "The Federal Gazette," Baltimore. James announced in the press that on May 23, 1808 that he would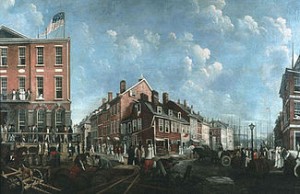 "open the Tontine Coffee House and would conduct it on the European plan, and would keep a daily list of vessels entered and cleared, and other conveniences for business men and mariners."   Tontine Coffee House, once located on the northwest corner of Wall and Water Streets, is now recognized as the precursor to the New York Stock Exchange!
At some point in his retirement, William Bryden built a large country estate named "Orange" — suggesting an early unwise attempt at growing oranges there.  It was located on the eastern outskirts of Baltimore, at what was later Canton and Biddle Streets.   After William's death, his administrators tried to keep the house but there was a legal battle between family members to partition it.  Eventually, Orange was put up for sale in American and Commercial Daily Advertiser, November 1841:
All that part of "Orange," containing twenty acres and six-tenths of an acre, long known as the country seat of the late Capt. William Bryden, situated about one mile and a half north east of the Court House, and near to Monument Street. The improvements are the very best order, and consist of a large two-story BRICK DWELLING HOUSE, containing 10 rooms, in excellent repair, and suitable for the accommodation of a large family. There is a 60 foot porch on the whole length of the house. There are also a Stable, Barn, Milk-House, Smoke-House, &c &c, upon the premises, all of brick, large and in good order–the soil is of the best kind–there is a fine Garden and the place is well set in Fruit, such as Apples, Peaches, Pears, Grapes, Raspberries, Gooseberries, &c &c. The Fences are in good order. The situation is very high and healthy, and from its near proximity to the city, (it being within the city limits) presents great advantages, whether as a Country Seat or Market Garden.
"High and healthy" refers to the danger from malaria, which in those days was common up and down the East Coast. It was known to be more prevalent in the low-lying marshy areas, but the connection with mosquitoes had not yet been made, and people believed the disease to be carried by breezes off the water.
William and his brother James, both immigrants from Scotland, became influential and successful in business affairs.   At age 52, William lost his brother James who at the time was living in New York City.  The relationship with his only sister Agnes remains unknown.
William and Elizabeth lived until their early seventies. Elizabeth G. Bryden was first buried at Christ's Episcopal Church, St. Paul and Chase Streets.  Shortly afterwards when Captain William Bryden died, she was moved to Westminster Presbyterian Church Cemetery, a very small burial ground in downtown Baltimore at Greene and Fayette Streets, where they now rest with each other.  A detailed historical story of the church and graveyard is here.
The inscription on William and Elizabeth's tombstone reads:
Sacred
To
The Memory Of
CAPTAIN WM. BRYDEN
A native of Edinburgh, Scotland
Born Nov'r 21 1767
Departed this life April 9 1840
In the 73rd year of his age
Also his wife
ELIZABETH C. BRYDEN
A native of London, England
Born Oct'r 11 1769
Departed this life January 21 1839
In the 70th year of her age
Here rest the ashes of a happy pair,
Who reared their offspring with parents care.
A joy to each they present the stage of life,
He a loved husband, she a loving wife.
In all their action generous and just.
Their sacred ashes blossom in the dust.
This tomb
Erected by their children as a token of love.
References
Midlothan: Edinburgh – Parish of Holyroodhouse or Canongate. Register of Marriages, 1564-1800
"Genealogy and Biography of the Leading Families of Baltimore City and Baltimore County, Md.", Chapman Publishing Co., N.Y.C. 1897, with heading "Genealogical and Biographical Record", pp. 939-940
Baltimore, Volume 11 By Merchants and Manufacturers Association (Baltimore, Md.), Baltimore Association of Commerce, Chamber of Commerce of Metropolitan Baltimore
Ancestry Notes compiled by William Morris Kinnersley III, including those of Bryden Bordley Hyde