Daniel Sullivan (1844-1931) was born in Meenygorman, Newmarket, County Cork, Ireland on March 10, 1844.
He was baptized that day at the Church of the Immaculate Conception,  Parish of Newmarket by the Reverend D. Murray, C.C.  His sponsors were Michael Whelan and Eliza Leary.  The photo is the baptismal font of both Daniel and Anne Sullivan.
Daniel's parents were Timothy Sullivan (c.1810-1848) and Ellen Sullivan (-1889).  They immigrated to Canada in 1847 leaving Daniel and his sister Anne in the care of relatives in Meenygorman.  When relatives did not hear from Timothy or Ellen for a few years, they assumed that Daniel's parents and brothers Timothy and William had died of the typhus epidemic.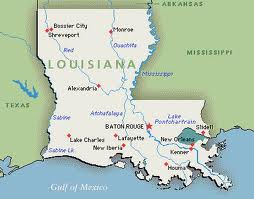 In 1850, Timothy's brother Daniel traveled from Alexandria, Louisiana, USA to Meenygorman, Ireland and to bring his nephew Daniel and niece Anne back home with him.  A decade earlier in 1840, Daniel himself immigrated from Ireland along with his brothers Dennis and John to Alexandria, Louisiana, USA.  There he became active in general merchandise and shipping businesses.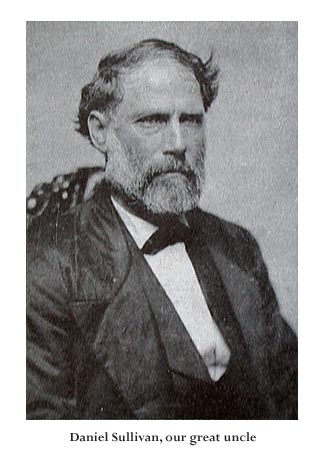 Uncle Daniel Sullivan (1805-1871) was a life long bachelor but his care for his nephew and nieces during their early years was life altering.  He adopted and educated his nephew Daniel Sullivan (son of his brother Timothy) and niece Anne Sullivan (daughter of Timothy).  He brought his niece Anne Cotter (daughter of his sister Mary Sullivan Cotter) to Texas for education.
On July 4, 1857, Uncle Daniel relocated to his new home at Powder Horn,  Indianola, Calhoun County, Texas.   Around that time, his niece Anne Sullivan became a student at the Ursuline Convent in Galveston, Texas.   That year, young Daniel Sullivan and his sister Anne received a letter from their mother Ellen who had been assumed dead.  It is not known if Daniel ever saw his mother after that.  By 1858, a yellow fever epidemic hit Galveston and may have contributed Anne's death at age 13.
Around the time of his sister's death and about age 14, Daniel Sullivan entered the Jesuit school at New Orleans, witnessing brutalities perpetrated by the Know Nothing Party in political control of New Orleans.  He remained at school until 1861 and then returned to his Uncle Daniel's home in Indianola.
In 1861 at age 17, Daniel asked his uncle permission to enlist in the Confederate Army.  His uncle outfitted him with a blooded Arabian horse, fine saddle and all needed equipment.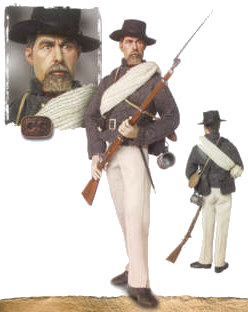 Daniel Sullivan was one of the 120 young men who formed Company B of the First Regiment of Texas Cavalry, C.S.A., which was organized in May 1861 at Victoria, Texas under command of Colonel A. Buchel.  Daniel served until the end of Civil War war in 1865.
Daniel Sullivan married his cousin Anne Cotter on January 5, 1868.  Anne was the daughter of William Cotter and Mary Sullivan Cotter.  Anne was born and baptized on September 13, 1842 at Newmarket, County Cork, Ireland.  Her sponsors were James Doherty and Cate M. Auliffe.
Anne Cotter came to the United States in 1856 with her Uncle Daniel Sullivan who had adopted her cousin Daniel Sullivan a few years earlier.   She and her cousin Anne Sullivan were placed as students at the Ursuline Convent in Galveston, Texas. When the Civil War ended in 1865, Anne Cotter joined her uncle in Indianola, Texas.
After a few years, Daniel Sullivan and Anne Cotter had to get a dispensation from the Bishop Dubuis of Galveston for their marriage because they were cousins.  The Bishop came over by boat from Galveston to Indianola to officiate at the Marriage Ceremony on January 5, 1868 at the Church of Our Lady of the Gulf, Port Lavaca.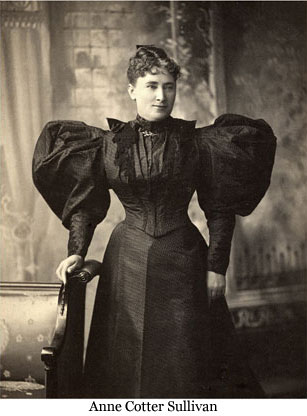 This is to Certify that Daniel Sullivan and Annie Cotter were lawfully married on the 5th day of January, A.D. 1868, according to the Rite of the Roman Catholic Church and in conformity with the laws of the State of Texas. Rev. C. M. Dubuis, Bishop of Galveston, officiating, in the presence of John Boyd and William McClary, witnesses. 
Daniel and Anne had seven children who were born in Indianola, Texas.
| | | | |
| --- | --- | --- | --- |
| Child | Born | Married | Departed |
| William Cusack Sullivan | 29 Sep 1868 | | 26 Oct 1930 |
| Eleanor Alice Sullivan | 28 Jun 1870 Indianola, TX | James Robert Collins Mar 1894 | 21 Apr 1931 San Antonio, TX |
|  Annie Marie Sullivan | 27 Jun 1872 |  none | |
|  Daniel Joseph Sullivan | 12 Jan 1874 | Josephine Saylor     Oct 1904 |  20 Aug 1948 San Antonio, TX |
|  John Cotter Sullivan | 24 Dec 1875 | Florence Fletcher 21 Apr 1909 | |
|  Mary Elizabeth Sullivan | 22 Nov 1878 | Colonel John Lincoln Clem 1903 | |
|  Walter Sullivan | 15 Oct 1881 |  none |  12 Jul 1905 Lost at Sea |
At some point, Uncle Daniel, who had one of the largest wholesale grocery and general merchandise businesses on the coast of Texas, left the businesses to his adopted nephew Daniel Sullivan.  Daniel who continued the Indianola businesses until January 1882 and then moved with his family to San Antonio, Texas where he opened up his own private bank.  In time,  it became one of the largest private banks in Texas. At some point, Daniel foreclosed on a J. A. Fant Santa Rosa ranch of 49,000 acres, now known as the Mariposa Ranch.  Daniel and Ann's lives illustrate the possibilities that America provided immigrants. Their wealth and influence have impact till this day.  For better or worse, their legacy led to issues of inheritance, sibling rivalries, and perhaps hope.  This legacy began long before them and is seen centuries earlier in other family lines described here.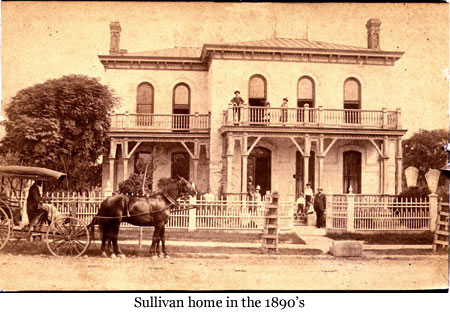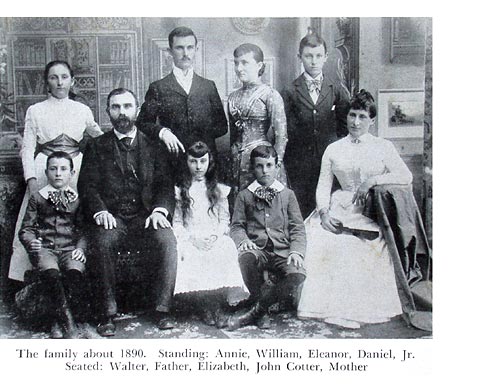 Anne Cotter Sullivan died November 9, 1904 in San Antonio, Texas and is buried there in the family plot in St. Mary's Cemetery.  Daniel Sullivan died November 30, 1931 and is buried next to his wife in St. Mary's Cemetery.
References The Family of D. Sullivan, Compiled by John Cotter Sullivan, The Naylor Company, San Antonio, Texas, 1952 Sullivan-Clem Family Papers 1849-1956 located at the Daughters of the Republic of Texas Library, San Antonio