Francis Shepherd  (1646-1692) was born about 1646 probably in England and it is not definitely known when he first came to Maryland and to Talbot County.  He may have been the son of William Shepherd and Mary who came by sea to Maryland in 1640.
Francis Shepherd married Ann (Hannah) Norris (1650-after 1685) in 1679 in Talbot County, Maryland.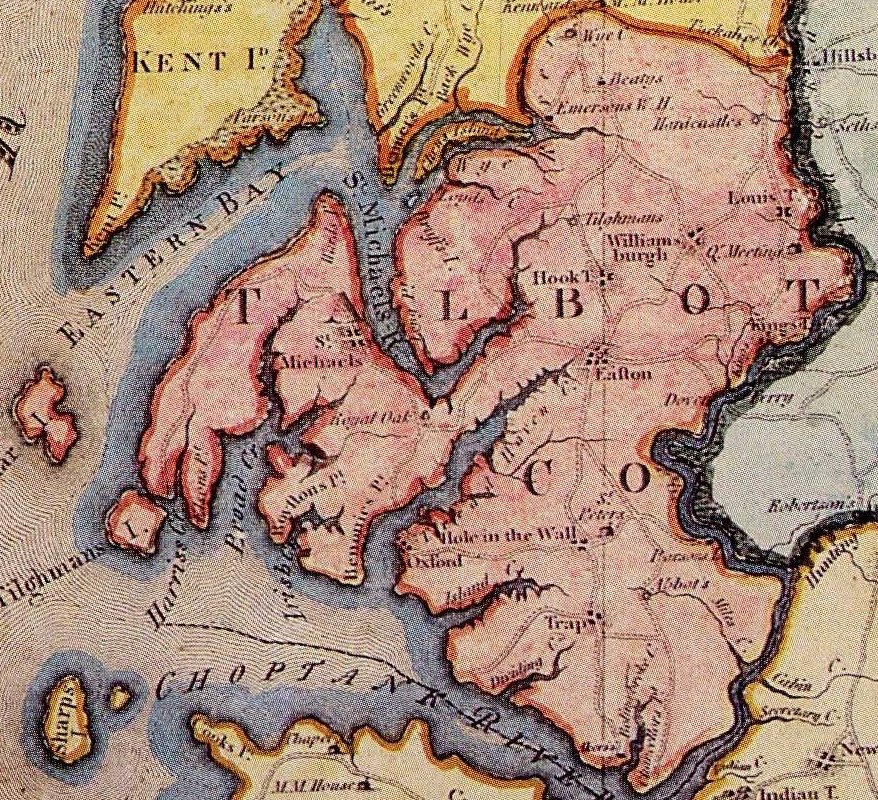 Ann Norris was born in 1650 in St. Mary's County, Maryland.  Her parents were Thomas Norris (1609-1675) of Congham, Norfold, England and Anne Hynson (1612-1668) of England who both came by sea to America.
Francis Shepherd and William Tilghman had a grant of 1000 acres of land, patented on October 1, 1682.  Francis was the original proprietor of Shepherd's Fold, Queen Annes County, Maryland.  He served on Juries from 1680 regularly through 1684. He was listed as a Planter and Attorney in Land Records.  He owned many tracts of land.
Francis Shepherd was known to be loyal to King and Lord Baltimore and was a signer of the petition of  November 18, 1689 to the King from the "ancient Protestant inhabitants of Talbot County." The petition complained of John Coade's ruling unjustly by creating tumult and mutiny in the Colony and taking it over.  The signers requested the return of Lord Baltimore.
Francis Shepherd and Ann  Norris had four children born in Talbot County, Maryland and all under age at the time of his death.
| | | | |
| --- | --- | --- | --- |
| Child | Born | Married | Departed |
| Mary Shepherd | c. 1680 | | abt 1728 |
| William Shepherd | c. 1682 | Catharine, 1718 | after 1743 |
| Elizabeth Shepherd | c. 1684 | Joseph James, 31 Aug 1710 | |
| Anne Shepherd | c. 1685 | Edward Smith;  Charles Marshall, bef. 1706 | 1735-6, Queen Anne Co. MD |
About two years after the birth of her youngest child Anne, Ann Norris died in Talbot County, sometime between June 20, 1687 and March 5, 1688, according to their signatures to deeds. 
Francis Shepherd remarried to Elinore but he died only a few years later in 1692 in Talbot County.
Francis' will was dated March 5, 1691 and probated March 21, 1692. Elinore was not named in the will, so it is presumed that her death pre-dated his.  In any case, Francis' young children had lost their parents at this point but provisions in Francis' will protected them to remain on the plantation with overseers.  His land Shepherd's Forrest was granted to his daughter Ann's husband Edward Smith.
The Abstract of the Will of Francis Shepherd exists:
To daughter, Mary, one half of the tract of land I now live on, the whole being 400 acres called "Shepherd's Fortune", and to her heirs. If she decease before full age or not have issue, the land to son William.
To son, William, the remaining part of the tract, and if he should decease before full age or not have issue, to daughter Mary.
To son, William, and daughter, Mary, 200 acres of Shepherd's Forest" to be divided between them.
To daughter, Elizabeth, 300 acres called "Shepherd's Redoubt" upon the Red Lion Branch.
To youngest daughter Ann 300 acres called "Shepherd's Fold" on Unicorn Branch. If she decease before age or have no issue, to go to daughter Elizabeth.
To Ann Evans, my sister's daughter, 100 acres, part of a tract called "Shepherd's Folds" given to youngest daughter, Ann.
There is a piece of land in controversy between me and Nicholas Clouds — 1/2 of tract to brother Robert Norris if he can recover it, then, then the other half towards paying my just debts. Also, 100 acres of "Shepherd's Forest" to be sold towards paying debts.
To John Ponder the 200 acres of land he now lives on.
If any or all daughters decease before coming of full age, or their heirs decease before full age, their inheritance to go to son, William. If he decease without heirs, his part to be divided equally among my daughters then living.
If all the above should decease before full age or have no issue, to go to Anna Evans. If she decease or have no issue, then to my brother Robt. Norris.
It is my desire that none of my children be removed from the plantation where they now live. I appoint John Whitinton and Jonas Greenwood to be overseers of this my last will.
Test: Mary Sherrin, Jno. Powder, Jonas Greenwood. 7. 2S).
Resources
Descendants of Geoffrey Noreys – 22 JAN 1999
Archives of Maryland Vol. 8, p. 132
Wills-Lib. 7, Fol. 29-31, Talbot Co Hall of Records, Annapolis
The Maryland Calendar of Wills: Wills from 1685 to 1702, compiled and edited by Jane Baldwin, Genealogical Publishing Company, Baltimore, 1968, (originally published 1904), Volume 2, Page 82. Located in Raymond Clark Collection, Maryland Room, Talbot County, Maryland Library, furnished by H. Wood, Talbot County Historical Society