Hermann Betzer (Bitzer, Pitzer) was born in 1669 in Hachenburg, Germany.  Under horrific ill conditions, he emigrated by sea with other Palatines in search of a new life. Hermann settled in the East Camp, known as Germantown, NY where he became an original settler, remaining there the rest of his life.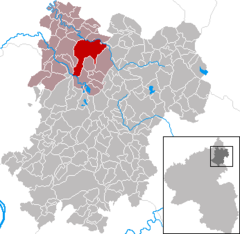 Hermann Betzer's parents were Peter Betzer (c. 1650-?) and Ann Els Zimmermann (c. 1650-?)
Hermann  was baptized in uff. Astri-Monday: 1669.  His sponsors were Hans Hermann (son of Peter Zimmermann), Johannes Braun,  both from Nister, and Anna Maria Rorbach from Hachenburg.
Hermann Bitzer married Elsa Maria Frantz, (c. 1666-?) daughter of Johannes Frantz and Anna Maria Muller before 1693.
The children of Hermann and Elsa Maria were born in Germany:
| | | | |
| --- | --- | --- | --- |
| Child | Born | Married | Departed |
| Anna Christina Betzer | 17 "Trinity" 1693 | Jacob Best, Sr. | |
| Anna Gertraud Betzer | after 1693 | Johann Wilhelm Schneider about 1713? | |
| daughter Betzer | 1695 |   | |
| Peter Betzer | 1697 | Anna Catharina Philips | |
| Adam Betzer | | Catharina Funck | |
| Catharina Betzer | | Johannes Philips | |
| Elizabeth Catharina Betzer | | Peter Weber | |
| Johann Theiss Betzer | | Anna Margaretha | |
Hermann Bitzer arrived by sea in America on July 4, 1710 with 5 persons over 10 years old; 2 persons under 10 years; and 1 person under 10. His name appeared on the Governor Hunter's Ration Lists of Palatine Heads of Family.  The family first settled in the East Camp.  The journey and relocation is exceptionally described in an account of the Hauss Family.  A reconstruction of the voyage of the Eighth Ship:
For months, they were packed inside the hold alongside several hundred other passengers, with no fresh air or daylight and unable to stand—their days filled with only darkness, foul odor, vermin and tiny rations of rotten food. Of the 3,100 who left England almost 500 would die, many of "ship's fever" (now known as typhus). [Hermann Betzer]'s ship, if the eighth, would have arrived in New York right around the fourth of July, when he made his first appearance on the "Hunter Subsistence Lists." This means that on the day we now celebrate our independence in this country, [Hermann Betzer] was declared a veritable slave.
The Betzers and other Palatines settled in Germantown to manufacture naval stores for Queen Anne's navy but when that failed many families scattered to other regions.  An account of the settlement of Germantown can be found here.
According to Wikipedia "German Palatines":
Settlement on the east side (East Camp) of the Hudson River was accomplished as a result of Governor Hunter's negotiations with Robert Livingston,
who owned Livingston Manor in what is now Columbia County, New York. Livingston was anxious to have his lands developed. The Livingstons benefited for many years from the revenues they received as a result of this business venture.
West Camp, on the other hand, was located on land the Crown had recently "repossessed" as an "extravagant grant."

Three of my ancestors served as volunteer soldiers in the Canadian Exposition of 1711:  Hermann Betzer and Jacob Bast from Annesbury, and Carl Nehr from Queensbury.  Hermann and Jacob had both arrived aboard the same ship in 1710  along with Joseph Reichardt.
Hermann Betzer  (Harma Betser) was naturalized on January 17, 1715/16.   He is mentioned on Palatine Debtors Lists dated 1718, 1719 at Annesbury.  At the time, there were only 17 families noted there.  Those that lived in Germantown with the Betzer family, probably worshiped in the Lutheran Church.  For an interesting pictorial display of Germantown 1710-on.
While others left, Hermann Betzer's family was willing to remain at Livingston Manor. By August 26, 1724, he received land grant and remained.  The death and burial of Hermann and Anna Maria remains unknown.  RIP
References
Henry Z Jones Jr., The Palatine Families of New York, A Study of the German Immigrants Who Arrived in Colonial New York in 1710, 1985 (Universal City CA), volume 1.
Documentary History of New York, Vol. III, p. 724
Three Rivers, Hudson~Mohawk~Schoharie, History From America's Most Famous Valleys, The Book of Names, Especially Relating to The Early Palatines and the First Settlers in the Mohawk Valley, Compiled and Arranged by Lou D. MacWethy, Published by The Enterprise and News, St. Johnsville, NY, 1933
"The House Family of the Mohawk" by Melvin Rhodes Shaver, The Enterprise & News, St. Johnsville, New York