Jacob Best (c. 1690-) (aka Bast, Beest) was probably born about 1690 in the neighborhood of Schonbach and Herborn about 40 km. north and a little to the west of Frankfurt, Germany.  He arrived by sea to America to become the patriarch of Best family.
On January 21, 1705, a Johan Jacob Bast married Margret, daughter of Johannes Kurtz from Schonbach.  This couple had a son baptized March 21, 1705 named Johann Jost. This may have been Jacob's first wife and child.  

Jacob Best immigrated to England and then to New York, settling at East Camp  (Germantown), Columbia County, NY.
Palatine Refugees, who settled first in Columbia and Ulster Counties, New York, had fled to England in large numbers from the German Palatinates, because of religious oppression, and about 1710 Queen Anne had found a home for them in this country.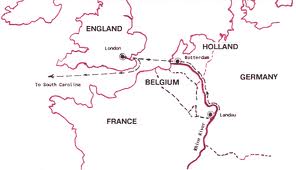 As with Hermann Bitzer, Jacob Bast first appeared on Governor Hunter's Lists arriving in New York on July 4, 1710.  He was noted with 2 persons over 10 years of age in his household.
About a year later, the Hunter Lists indicate that Jacob's family decreased to one person over 10 years of age on June 24, 1711 and then increased back to two persons over 10 years of age on September 13, 1712.  This indicates his marriage to his second wife Anna Christina Bitzer was between 24 June 24, 1712 and September 13, 1712.
Anna Christina Bitzer was the daughter of Hermann Bitzer who arrived on the same ship with her family and did Jacob Best.
Jacob Bast's name first appears in New York in 1710 along with two other Bast families from the same area of Germany.  Jacob arrived at Livingston's Camps on the Hudson River in Columbia County. The intent was to have these Germans immigrants cut down the fine pine trees for the main purpose of distilling the pitch which would then be shipped back to England to use in the boat building trade.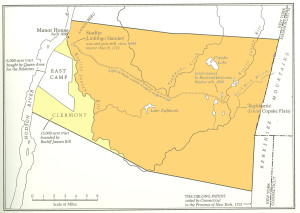 Like other Palatine immigrants Hermann Betzer and Joseph Rikert, Jacob Bast of Annesberg was a Palatine volunteer soldier to 1711 Expedition to Canada.  They had no choice but to leave their families in the camps with little food or supplies.  By September 1712, Palatines were released from their contracts and had to fed for themselves.
Jacob Best's name is found on a July 16, 1711 list of Palatine Volunteers in Annesberg, Haysburg and Queensbury.
Having taken the oath of allegiance, the Palatines furnished 300 men and four companies in the expedition in 1711 against Montreal, under General Nichols.  The appeal was for the defense of Albany against the French.  This was only one year after their arrival to the Colonies.  These Palatine regiments under Colonels Schuyler and Ingoldsby formed a large part of the army and were used as a wall of defense between British and the French and their Indian allies.  On their return, Governor Hunter removed their firearms from them under the pretense that they might use them against the Province.
The tar distilling endeavor was deemed a failure and Jacob Bast and his wife were released and moved east in 1712 and established their farm in Livingston.  They had several children. Sons Johannes and Harmanus were actively involved in the Revolution.
Jacob Best married Anna Christina Betzer (c.1693-) in 1712.  Records suggest that Anna Christina Betzer was baptized 17 Trin. 1693 with sponsors Johann Kreiss and Anna Maria, single aunt of mother and Christine, single daughter of Johann Frantz.  She was also known as Anna Catherine.
Anna Christina's parents were Hermann Betzer born about 1669 in Hachenburg, Palatinate (Germany) and Elsa Maria Frantz.
Jacob was naturalized on January 17, 1715-6 at the Mayor's Court, Albany, New York. Records indicate that Jacob was listed as a Palatine Debtor on lists dated 1718, 1719, and 1721.
Jacob and Anna Christina's children were born in Columbia County, NY:
| | | | |
| --- | --- | --- | --- |
| Child | Born | Married | Departed |
| Anna Maria Best | 9 Mar 1720 | John Mare of Devonshire, England | |
| Elizabeth Best | 2 Apr 1722 | Henrich Berringer | |
| Johannes Best | c. 1730 | Eva Lounart c. 1749-50 |  1787 |
| Harmanus Best | Oct 1725; bapt. 28 Nov 1725, NYC | Mary Elizabeth Rohrig | |
| Jacob Best | c. 1715 | Catharina Berringer; Annatje Tact | |
| Georg Best | | Maria Magdalena Hoff 1743 | |
Although some research suggests three sons and three daughters, a 1725 baptism at the Lutheran Church in New York City identifies:
Johann Hermann, 4 weeks old, of Johan Jacob Beest & Christina.  P: Herman Betzer, Catharina Betzerin.
Other church records of a later baptism indicate that Jacob and Anna Christina were alive in New York on February 4, 1759.  After that, there is no further information about the death or burial of Jacob or Anna Christina.   Jacob came to America under terrible conditions, married, and raised a family in Columbia County, NY. His legacy is about finding freedom.  His sons grew up and fought in the American Revolution continuing a legacy of freedom.   Thank you.
References
"The Palatine Families of New York — A Study of the German Immigrants Who Arrived in Colonial New York in 1710" by Henry Z. Jones, Jr., 1985, Volume 1, pg. 73.
Blue book of Schuylkill County : who was who and why, in interior eastern Pennsylvania, in Colonial days, the Huguenots and Palatines, their service in Queen Anne's French and Indian, and Revolutionary Wars : A history of the Zerbey, Schwalm, Miller, Merkle, Minnich, Staudt, and many other representative families
The family of Best in America of Holland descent : with copious biographical notes, 1700-1901 (1909) by Charles Best Benson
Hudson-Mohawk Genealogical and Family Memoirs, edited by Cuyler Reynolds (New York: Lewis Historical Publishing Company, 1911), Vol. IV, p. 1691-3.
Those Five Jacob Bests: Loyalists or Patriots? by James Nohl Churchyard, PhD, NYG&B Record, Vol 135, No. 1, Jan. 2004, pgs. 19-30