James Robert Collins (c. 1866-1947) was born on December 28, 1866 in Atlanta, Georgia.  His life history remains enigmatic.  The most that is known comes from a newspaper clipping and his death certificate.  Following an elaborate wedding, the birth of a daughter, and a separation (or divorce), he disappeared into obscurity.  Perhaps his powerful father in law, a strict Catholic, wanted to minimize James' visibility.  Perhaps his life was uneventful.  Whatever the reasons, James Robert Collins life is less known than that other ancestors hundreds of years preceding him.
James Robert Collins' father was William Collins born in Georgia.  His mother is unknown. 
According to family notes, James Robert Collins had a daughter Lewise Stirling Collins (1891-1920) born in Georgia on May 13, 1891.  It is most likely that her mother died in which case James would have been in a situation to remarry in 1894.
James Robert Collins married Eleanor Alice Sullivan (1870-1931) on March 28, 1894 in San Antonio, Texas.
Eleanor Alice Sullivan was born in Indianola, Texas, June 28, 1870.  Her parents were Daniel Sullivan and Anne Cotter.  In 1882, when Eleanor was age 12, the family moved from Indianola to San Antonio, where her father established a banking business, under the name O'Connor and Sullivan.  Once he became sole owner,  the name of the business was changed to D. Sullivan and Co. and it grew into one of the city's prominent banking businesses.   Eleanor attended School at the Ursuline Convent, San Antonio and then at Notre Dame College, Maryland.  By age 24, she married.
Eleanor Alice was the second oldest of seven children and is the third standing from the left.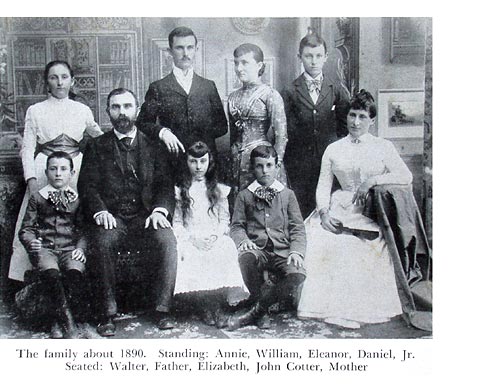 It is not known how Eleanor Alice came to meet James Robert Collins.  Nonetheless, her wedding was a very celebratory and formal event.
THE CONSTITUTION: ATLANTA. GA., Friday April 6 1894.
The San Antonio Daily News, of the 29th of March, contains an account of the marriage of Mr. James Robert Collins. Atlanta's city tax collector, to Miss Eleanor Sullivan, of that city. The wedding was the social event of San Antonio and was largely attended. Here is what The News says:
"Miss Eleanor, daughter of Mr. Daniel Sullivan, and Mr. James Robert Collins, of Atlanta, Ga., were united in marriage at St. Mary's church last evening, Rt. Rev. Bishop J. P. Neraz, officiating. "The impressive ceremony was performed in the presence of a brilliant gathering and the church was filled to overflowing with the elite of San Antonio's society.
"The scene within the church was extraordinarily beautiful. The altar rail of white and gold enamel was festooned at regular intervals with garlands of pink roses and smilax, while the chancel and side altars were filled with palms and varieties of the white lily. And over all, the electric lights fell with enchanting effect.
"The bridal procession entered the church at 6 o'clock in the following order: Ushers— Dr. Amos Graves, Jr., Dr. Withers, Messrs. W. C. Rigsby, W. C. Sullivan, James Simpson and Lieutenant Schley, U. S. A. Maids of honor—Misses A. M. Sullivan and Olive Graves, attired in white silk tulle and satin, wearing Leghorn hats trimmed with pink roses, and carrying bouquets of the same flowers.
"The bride was escorted by her father. She was radiantly charming in a wedding costume of white satin, cut in the princess fashion, with a graceful court train of generous length. The bodice was trimmed with real duchess lace, caught with occasional sprays of orange blossoms. The bouquet was composed of lilies of the valley. "It Is probable that the venerable Bishop Neraz never performed the solemn Catholic marriage service with more impressive ceremony than he did last evening.
"At the conclusion of the marriage ceremony, the bridal party repaired to the Sullivan residence on Avenue. C, where a few friends assembled to bid the happy couple farewell before their departure for Atlanta on the 9 o'clock train.
"Mrs. Sullivan, in a gown of silver gray brocades and old rose velvet, received the guests and was assisted by Mrs. C. W. Ogden, who was attired in a handsome gown of cream color and pale blue. "The banquet table was decorated chiefly with pink flowers and smilax, and the wedding cake was an open pyramid covered with roses.
"The presents were numerous and extremely handsome. The white metal predominated so that the lovely bride may be said to have been fairly 'snowed under with silver.* The groom presented her with a diamond necklace and the diamond star which held the bridal veil, while his not least acceptable offering awaits her in Atlanta in the shape of a Victoria and magnificent span of horses. "Mrs. Sullivan's gift to her daughter was a chest of solid silver containing 300 pieces in the style of Louis XV, while the bride's brothers and sisters have rendered the set complete by a service of dishes in the same design. The bride's father presented the couple with a check for $10,000. The groom gave the maids of honor diamond lace pins, and the bride presented the ushers with diamond scarf pins. The trousseau, which was ordered from New York, is among the most costly and exquisite ever brought to this city.
"The bride is well known in San Antonio's circles and is deservedly a favorite for her many excellent qualities of heart and mind. Nor is it alone in society's circles where she has, reigned as a favorite. Her charities among the poor and lowly, though made with modest and maidenly reserve, have enshrined her in the hearts of thousands of San Antonio's poor, who will send benedictions in her wake for a long life of happiness and content.
"The groom, Mr. Collins, is among Atlanta's most prominent young business men, a typical representative of that pushing, active class of young men who have been instrumental in placing his city among the foremost in the south and made it illustrative of the new south of today.
"The News, in common with hosts of friends of Mr. and Mrs. Daniel Sullivan, sends with the new couple congratulations and well wishes for a long and happy life in their new home.
Within the first year of their marriage, Robert and Eleanor had one child:
| | | | |
| --- | --- | --- | --- |
| Child | Arrived | Married | Departed |
| Eleanor SULLIVAN Collins | 3/12/1895 Atlanta, GA | Augustus Ducas Clemens, III ; Donald Rogers 1932 | |
Good education seemed to be a strong family value for both males and females.  Eleanor's siblings were: William Cusack Sullivan (1868-1930) who attended St Mary's College in San Antonio and the University of Pennsylvania's Peirce School of Business;  Annie Marie Sullivan (1872-1956),  educated at Notre Dame College in Baltimore and the Sacred Heart  Convent in Paris; Daniel Joseph Sullivan (1874-1948), who attended St. Mary's College and Rock Hill College in Maryland; John Cotter Sullivan (1875-1966) who attended St. Mary's College, Rock Hill College, and Harvard Law School; Mary Elizabeth Sullivan (1878-1967) who attended Notre Dame College and Sacred Heart Convent; and Walter Sullivan (1881-1905) who attended St. Mary's College, Harvard, and Yale University.
By 1910, Eleanor Alice Sullivan was divorced or separated and living in Baltimore with her 14 year old daughter Eleanor Sullivan Collins.   The psychological impact of Catholic divorce or separation and single parenthood at that time in history must have been very challenging.
On January 8, 1916, James' first daughter Lewise Stirling Collins married Clifford Betsworth Haughton in Jacksonville, Florida.  Clifford was the son of William Moseley Haughton and Effie Jeanne Betsworth.
Eight years later in 1918, Eleanor Alice's only child married in San Antonio, Texas and returned to Baltimore with her husband Augustus Ducas Clemens, III.  This marriage linked the ancestral family lines of Sullivan, Cotter, and Clemens.
James' daughter Lewise Stirling Collins died on May 10, 1920 at San Antonio, Bexar County, Texas.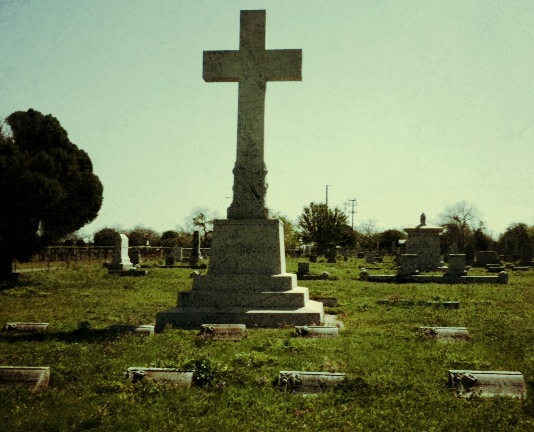 Eleven years later, Eleanor Alice Sullivan died in San Antonio, Texas on April 21, 1931 and is buried among of Sullivan family ancestors.
James Robert Collins died at Harlingen, Texas on October 6, 1947, seemingly having moved there 12 years earlier.  James is buried in Mont Meta, San Benito, TX.  His death certificate lists "Married" rather than "Divorced" or "Widowed" which suggests that he either remained married never divorcing or remarried after a divorce from Eleanor.   Theirs is a sad and mysterious story.
Resources
The Dix Family Archive
THE CONSTITUTION Atlanta, GA – Friday, April 6, 1894
U.S Federal Census 1910 — Baltimore, Maryland
Bureau of Vital Statistics — Texas