Lewis Sicker aka Lodewyk Sikker  (c. 1738-1809) was born in Germany about 1738.  He was my 4th Great Grandfather.  Lewis crossed the threshold leaving Europe and journeyed to the American Colonies by sea.  Nothing is known about Lewis' parents or why he immigrated in about 1755.
One hint is found in a book by J.V. Giffin located by someone in the Ole Court House in Watseka, Illinois states:
Lewis Sicker was born in Germany about 1738. He crossed the ocean as a German soldier in the English service at the age of 17 and served in the Canadian War. By permission of his General, Lewis remained in northern New York and worked as a farm hand in Schenectady County, N.Y. While working on this farm, his employer sent him with two slaves to a Mr. Fratt in Albany County, New York. Mr. Fratt invited him to remain on his farm. Lewis stayed, loved and married Mr. Fratt's daughter, Margaret Fratt.

What is known through church records is that Christina Fratsen (1740-1804) aka Margaret Christina, possibly of Holland or Germany, married Lodewyk Sikker in the Reformed Dutch Church of Albany on November 23, 1765.
Christina parents were Jacob Fratts(-1777) and Margarita Vretje (Fratien) (-1775) whose names eventually changed to Fratt.  Jacob and Margarita owned a farm on the west side of the Hudson river near Latham's Corners, Watervliet.  On the Bleekers' map of the Manor of Rensselaerwyck, 1767, it was noted as "location 51 west side of the manor."
On February 20, 1778, Ludewig Zicker and wife Christina Fretz's daughter Catherina Sicker was born and later baptized on April 6, 1778 with witnesses Philip Mayer and Catharina Fretz who was Christina's sister.
In 1789 at the First Lutheran Church of Albany, as uncle and aunt, Lewis (Ludewig Zicker) and wife Christina Fratt witnessed the baptism of Christina Roff, daughter of Christopher Roff and wife Catharina Fretz (Fratt) who was Christina's sister.  Christopher was Frederick Roff's (1729-1825) brother.
Ludwig's daughter Castiena (Christina) Sicker (1770-1807) married Frederick's son William Roff (1769-1862) on January 28, 1794.  This marriage connected the Roff, Sicker, Fretz, and Tollhamer families who lived in the Albany/Troy, NY area during the 18th century.  These family names faded away over the next two centuries.
Lewis Sicker, leased his 122 acre farm in Rensselaerswyk on April 28, 1791.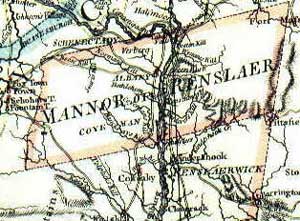 Children of Lewis and Christina:
| | | | |
| --- | --- | --- | --- |
| Child | Born | Married | Departed |
| Christina Sicker | 1770 in Niskayuna, Schenectady, NY | William Roff | 1807 Watervliet,  NY |
| Mary Sicker | | John Van Ness | |
| Margaret Sicker | | Abraham Groat | |
| Jacob Sicker | 20 Feb 1768 | Elizabeth Fretz? | |
| Sarah Sicker | | Isaac Clow | |
| John Sicker | 1766 Albany, NY | Charlotte Kerker | 1850 Linton Twp, Coshocton, OH |
| Jeremiah Sicker | 27 Jul 1772 | Margaret? | 17 Jan 1877 |
| Catherine Sicker | | William Rouw | |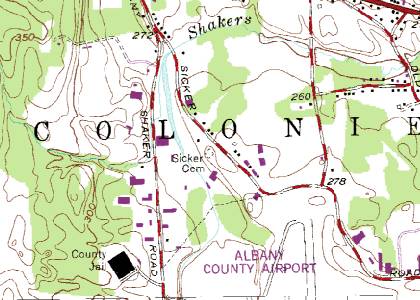 Lodewyk Sicker's will, originally written on December 27, 1804 but, dated February 14, 1809 mentions his wife Christina Margaret Fratt, daughter Christina Sicker and son-in-law William Roff  "in whose fidelity we much confide, full powers by these present to collect, buy, recover and receive all and singular the goods chattels and credits of the said deceased…"  He also acknowledges William and Christina for "the affectionate support yielded to me by them during my last illness."  Lewis mentions and provides for his children but makes William Roff and Christina his executors.  (This may foreshadow the 1825 controversy around William being his father's own executor and his brother's challenge of that role).
Lewis Sicker died about 1809 in Watervliet, NY.  There is a Sicker Cemetery (center of map) located in Niskayuna, NY but who is buried there?  It appears that Christina died sometime after 1809 being mentioned in the probate of the will.  According to the History of the Gilead Church notes, the Fraat family like others disappeared from historical records over time.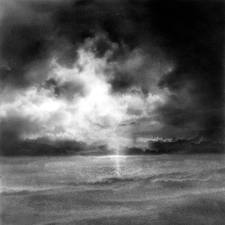 References
Records of the Reformed Dutch Church of Albany, NY 1663-1809 — Part 5
Rensselaerwyck Manor Papers SC7079
History of Coshocton County, Ohio: its past and present, 1740-1881
Records of the Gilead Lutheran Church, Centre Brunswick, NY
Bahmer, William J. Centennial History of Coshocton Co. [Ohio] 1909, S.J. Clarke Publ. Co., Chicago information on Sicker family in vol. II, p. 138
Contributions for the genealogies of the first settlers of the ancient …
By Jonathan Pearson — page 102
Yearbook of the Holland Society — 1907
The Frat House, 1958, Seth W. Fratt