Stephen Bordley (1637-1695) was christened at Tunstall, Lancaster, England on January 1, 1637.  There was a siege on Thurland Castle which lay it in ruin when Stephen was only about six years old.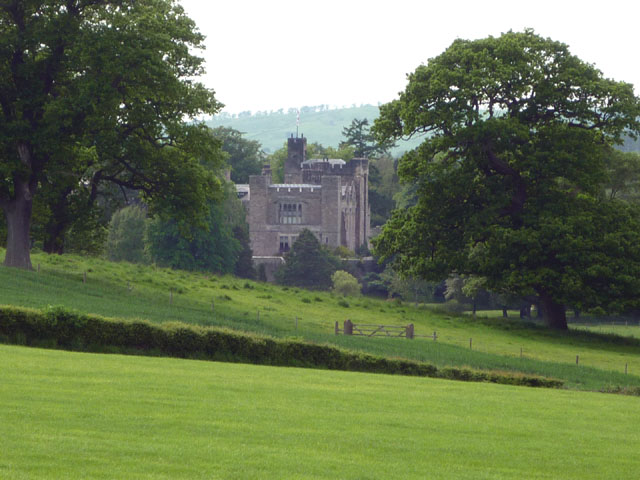 His father William Bordley (1605-1669) and his mother was Susanna Smithies.  It appears that Stephen's three older siblings died in infancy and he was their only surviving child.
Stephen Bordley was educated at Hawkshead Grammar School where his father was Headmaster. Founded in 1585, students were taught Latin grammar and the principles of the Greek tongue, ancient history, and the sciences of arithmetic and geometry sufficient "to meet the practical needs of the businessman, surveyor, or navigator."
Stephen matriculated 1654 at Christ's College, Cambridge University where he earned a Bachelor of Arts in 1657 and Master's of Arts in 1661.
Stephen Bordley was ordained Deacon at Lincoln Cathedral on March 24, 1660 and ordained a priest on September 1661 at Durham Cathedral, considered the greatest Norman building in England, perhaps even in Europe.
The Cathedral was built as a place of worship, specifically to house the shrine of the North's best-loved saint, Cuthbert, in whose honor pilgrims came to Durham from all over England. It was also the home of a Benedictine monastic community.
Stephen Bordley married  Margaret Colston (c.1640-1720) about 1660.  She was the daughter of William Colston (c.1600-post 1650) of Newcastle, a Royalist, and Margaret Proctor, of Cuthbert Proctor of Newcastle who was the great great grandson of Geoffrey Proctor (c. 1450-1525) of Nether Bordley,Yorkshire, England.
Stephen Bordley became curate at Ryton, Durham until 1664 and then Vicar until 1689 at St. Hilda's, South Shields, Durham on the east coast of England below Newcastle upon Tyne.
St Hilda's stands on an ancient site presumed to have been occupied by the monastery founded by St Aidan in 647. There is no record of the exact date of the original foundation of the chapel but there is evidence for a Saxon building below the present nave. The church certainly existed in Norman times, since it is mentioned in a Charter of 1154 and again in the Charter of King John in 1204.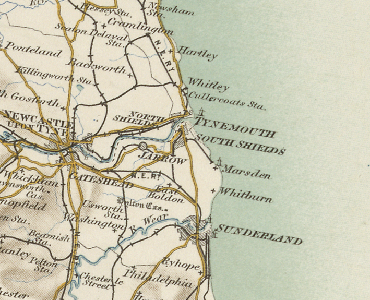 Stephen Bordley is listed on the South Shields Perpetual Curacy, known as The Prior of Durham formerly Patron, for succeeding as Curate on July 27, 1664.   The Chapel Wardens books which began in 1660, have the following entry:
"Whereas sundry of the Masters and Mariners of Whitby are often by their employments obliged to be in Tinemouth harbour, and being then willing (when opportunity invites,) to pay yt duty yt they owe to God for his great mercies, &c. but being unwilling to be uneasy to the respectine inhabitants in their own seats. they have desired liberty to erect and build a gallery under the farthest arch save one in the said Parochial Chappell, at their own proper costs and charges, unto which request, we the Minister, Chapell-Wardens, and 4 and 20, do with great willingness consent. S. Bordley," &c.
The salt trade was growing to its height during the time Stephen was Curate.
Stephen was Rector of St. Mary's Newington Surrey 1689-1698 and Prebendary (Willesden) of St. Paul's Cathedral, London.
In April 2012, we visited St. Paul's and through an amazing synchronicity were allowed to go to an off limit area to sit in the quire where Stephen would have once sat as a Prebendary.
During Stephen's career, he and Margaret had seven children.  Their first son named after Stephen's father and Margaret's father William was blind.  Their second son Stephen took his father's name.
| | | | |
| --- | --- | --- | --- |
| Child | Born | Married | Departed |
| Margaret Bordley | c. 16 Aug 1666 | George Lumley, 1691 | |
| William Bordley | c. 21 Aug 1671 Blind | none | |
| Mary Bordley | c. 24 Sep 1672 | none | |
| Stephen Bordley | c. 24 Aug 1674 | Ann Hynson | 1709 |
| Thomas Bordley | 16 May 1677 | Rachel Beard; Ariana Vanderhayden | 1726 |
| Elizabeth Bordley | c. 1679 | none | |
| John Bordley | c. 1681 | yes | |
Stephen had an extensive journey in the clergy but hedied before hisson Reverend Stephen (1674-1709) was sent to Maryland 1696 by the Bishop of London and appointed to St. Paul's Church, Kent County, Maryland.  Reverend Stephen's younger brother Thomas Bordley (1677-1726) accompanied him to Maryland as young boy.  He later became an influential lawyer and Attorney General of Maryland.
Stephen Bordley died on August 11, 1695 and was buried on August 16, 1695 at St. Mary's Parish, Newington, Surrey, England.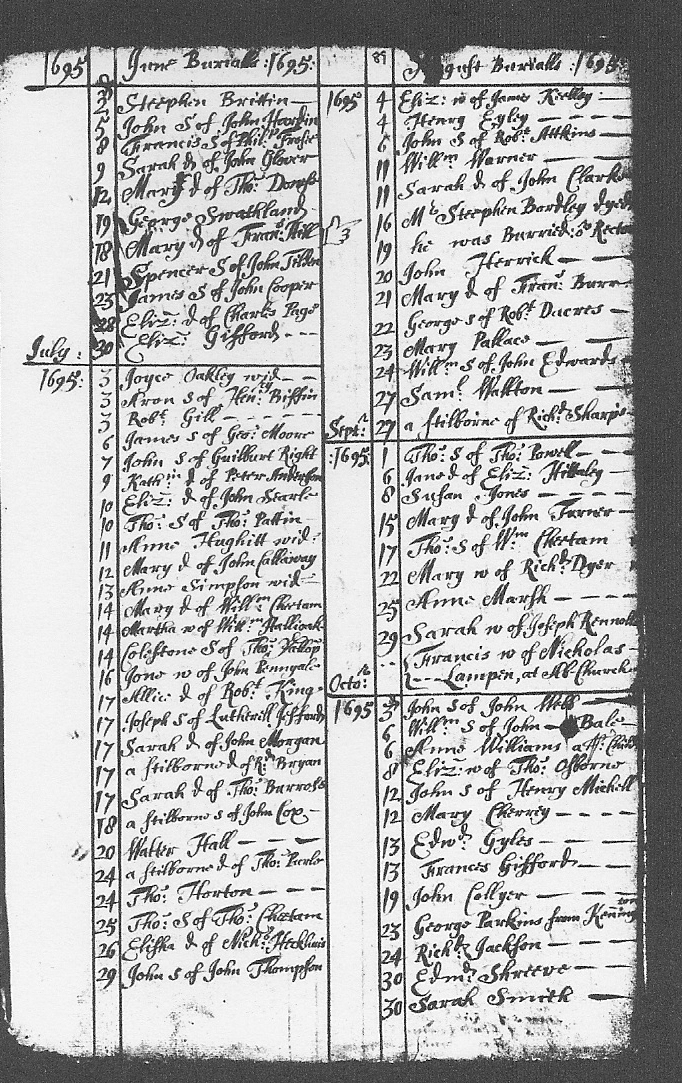 Original record below.
His son Thomas died on a 1726 voyage to London for an operation and was buried near his father at St. Mary's.
Margaret Colston Bordley outlived her son Stephen dying in 1720 at Newcastle. Her will of 1718 was probated in Newcastle in 1720 and leaves her unmarried daughters Mary and Elizabeth "all that my real estate which came from my Grandfather Proctor to my Mother Colston and from her to me…" and states "I recommend my Soul into the hands of Almighty God whenever he shall please to call me, my body to the Earth to be decently buried…" RIP 7th Great Grandparents
Resources
Survey of London: volume 25: St George's Fields (The parishes of St. George the Martyr Southwark and St. Mary Newington)
Chapelry of South Shields', The History and Antiquities of the County Palatine of Durham: volume 2
Surtees Soc CXI, p. 173 and Northumberland County History, Edw. Bateson Vol 2, page 192.
Will of Margaret Colston Bordley, located at the Department of Paleography and Diplomatic, University of Durham.
St. Mary's Parish, Newington Burial Records
Bordley Pedigree compiled by Bryden Bordley Hyde