Thomas NORTON (1822-1888) was born in Tipperary County, Ireland (probably Thurles Town) in 1822.  As an immigrant, he worked hard, became active in politics and provided his son John Thomas  with an Ivy League education.
Thomas arrived to New York by sea in 1847 at the age of 25, later settling  in Troy, NY.  The identity of his parents and why he immigrated is unknown.
At some point, Thomas married Rose Shattuck (1825-1898) who was also from Ireland.
Thomas lived in Troy, New York — a well known city for the manufacturing of stoves from 1818 to 1891.  Stoves were sent all over the world.  For many years, Thomas Norton was superintendent of Troy's Clinton Foundry (in existence from 1850-1932).  Around the time of the Civil War, in a 1866 register, Thomas was listed as a Commissioner of Deeds for the Clinton Foundry.
In Troy, Thomas was one of the leaders in Democratic political affairs.  For many years he served as a member of the Board of Aldermen, and according to Rutherford Hayner, Thomas' "discernment and sagacity were much depended upon by his colleagues in the Democratic party as well as by his business associates." Little is known about Thomas' personal life.
Thomas and Rose lived in the 9th Ward of Troy in 1870 with real estate and personal property valued at $12,000.
The children of Thomas and Rose were:
| | | | |
| --- | --- | --- | --- |
| Child | Born | Married | Departed |
| Mary Norton | 1853 | | |
| Francis Norton | 1853 | | |
| Emma Norton | 1861 | | |
| Joseph Norton | 1863 | | |
| John Thomas NORTON |  2/4/1865 Troy, NY | Margaret Hammond | 4/18/1942 |
Thomas died on August 24, 1888 and Rose died ten years later on January 20, 1898.  Their burial is unknown but assumed to be in a Troy cemetery.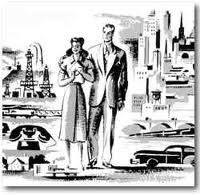 Perhaps Thomas' life was one fulling the American Dream in that he was able to work hard and provide an Ivy League Williams College education for his son, John Thomas Norton.
References
A History of Troy and Rensselaer County, NY by Rutherford Hayner (1926)
Business Directory for Troy, Lansingburgh, West Troy and Green Island, 1866