In April 2012 while on a search for my ancestral Irish roots, I discovered evidence of a man named William Cotter through an inscription on a tombstone in Clonfert Cemetery, Newmarket, Co. Cork, Ireland.   It was a tombstone erected by William himself (3rd great grandfather) in honor of his parents (my 4th great grandparents) and his brother (3rd great grand uncle).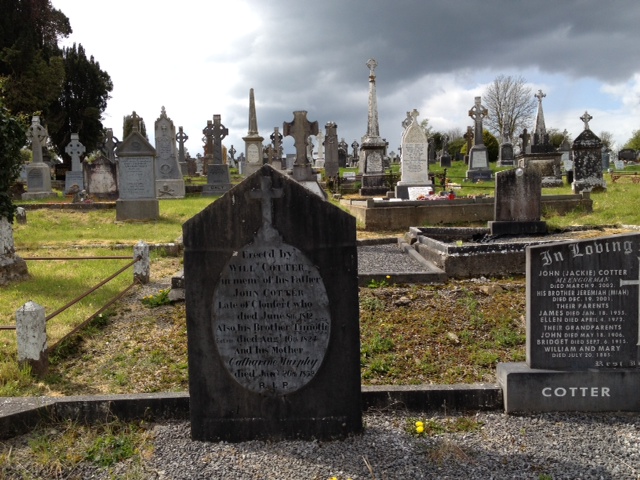 William Cotter (-1876) was born in Coolcluher near Kanturk, Ireland. 
William's parents were John Cotter of Clonfert (-1812) and Catherine Murphy (-1832) who lived in Meenygorman, Co. Cork, Ireland.  Little is known of their lives except that they had three children: William, Catherine, and Timothy.
William's brother Timothy Cotter (c. 1804-1824) was executed in his early 20's for being a Rockite leader of the Whiteboy movement.  The press controlled at that time by the Crown twisted Thomas' heroism into barbarianism.  No doubt Thomas' activities impacted William's own life and that of his family.  William's sister Catherine Cotter married Jeremiah Quinlan and had five children, a few who immigrated to the United States.   The early to mid 1800's were terribly difficult time for many.  By the 1820s, starvation, high taxation, restrictive lands, and religious intolerance marked the country people in North Cork and neighboring counties.  This was the context in which William was born and grew to manhood.
William Cotter (-1876) married Mary Sullivan (1815-1888).  She was the daughter and fifth child of Jeremiah Sullivan who by some accounts may have been a founder of the early IRA but this has not been confirmed.  The identity of Mary's mother is unknown but her first name may have been Ellen.
William and Mary resided in Meenygorman, Co. Cork near Newmarket.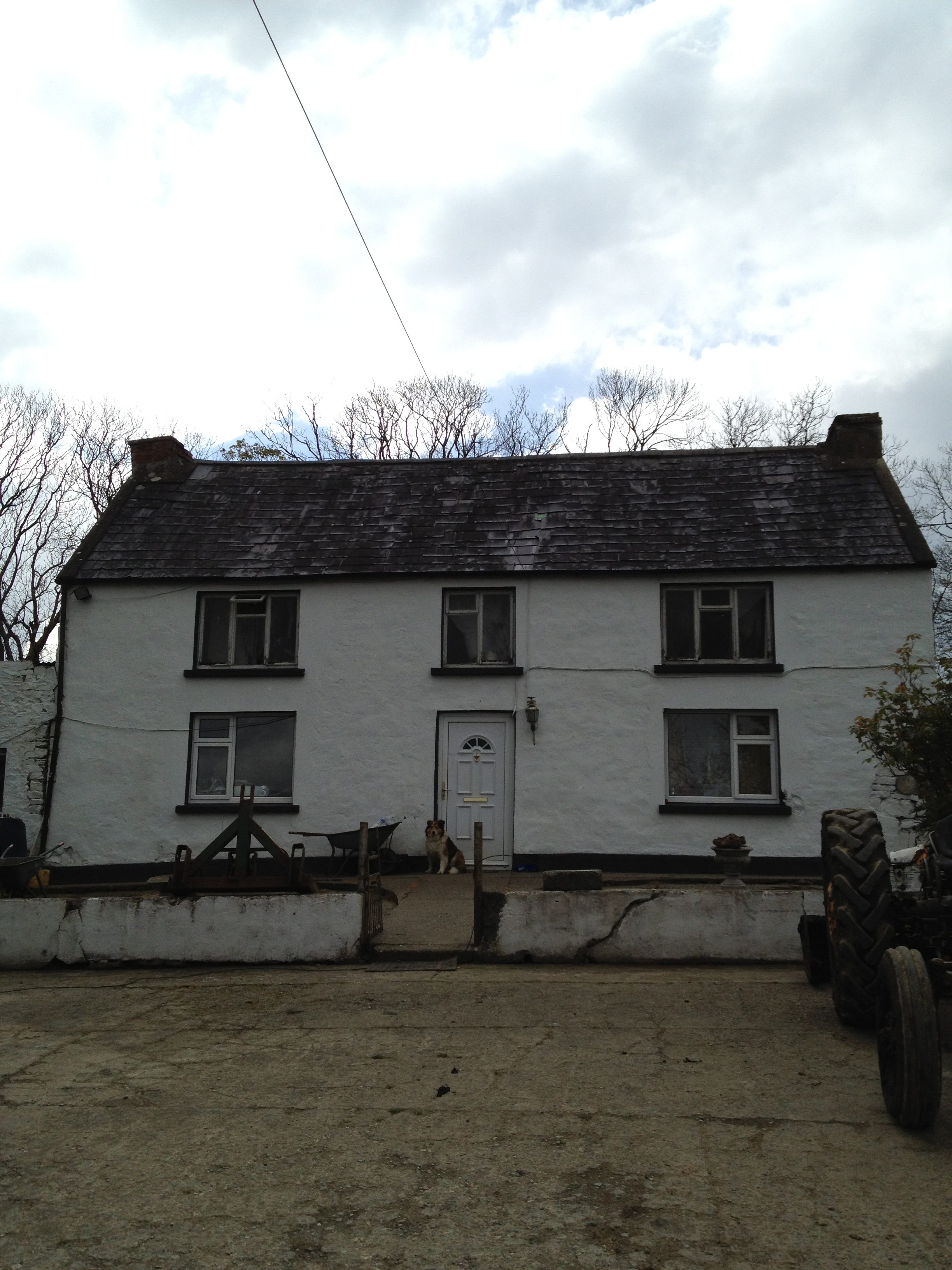 They had six children:
| | | | |
| --- | --- | --- | --- |
| Child | Born | Married | Departed |
| John Cotter | | Bridget; 11 children | 19 May 1906 Ireland |
| Honoria Cotter | | Henry Pomeroy of Millstreet; 6 children | |
| Anne Cotter | 13 Sep 1842 Meenygorman, Co. Cork, Ireland | Daniel Sullivan         5 Jan 1868 in Indianola, TX; 7 children | 9 Nov 1904 San Antonio, Texas |
|  Kate Cotter | | William Doherty; 2 children | Banteer, Co. Cork |
|  Mary Cotter | | Timothy O'Driscoll of Clonbanin, Co. Cork; 8 children | Clonbanin, Co. Cork |
|  Elizabeth Cotter | | William Quinlan Of Meenygorman | |
At least one of their children, Anne Cotter, was baptized at the Parish of Newmarket, Diocese of Cloyne on September 13, 1842.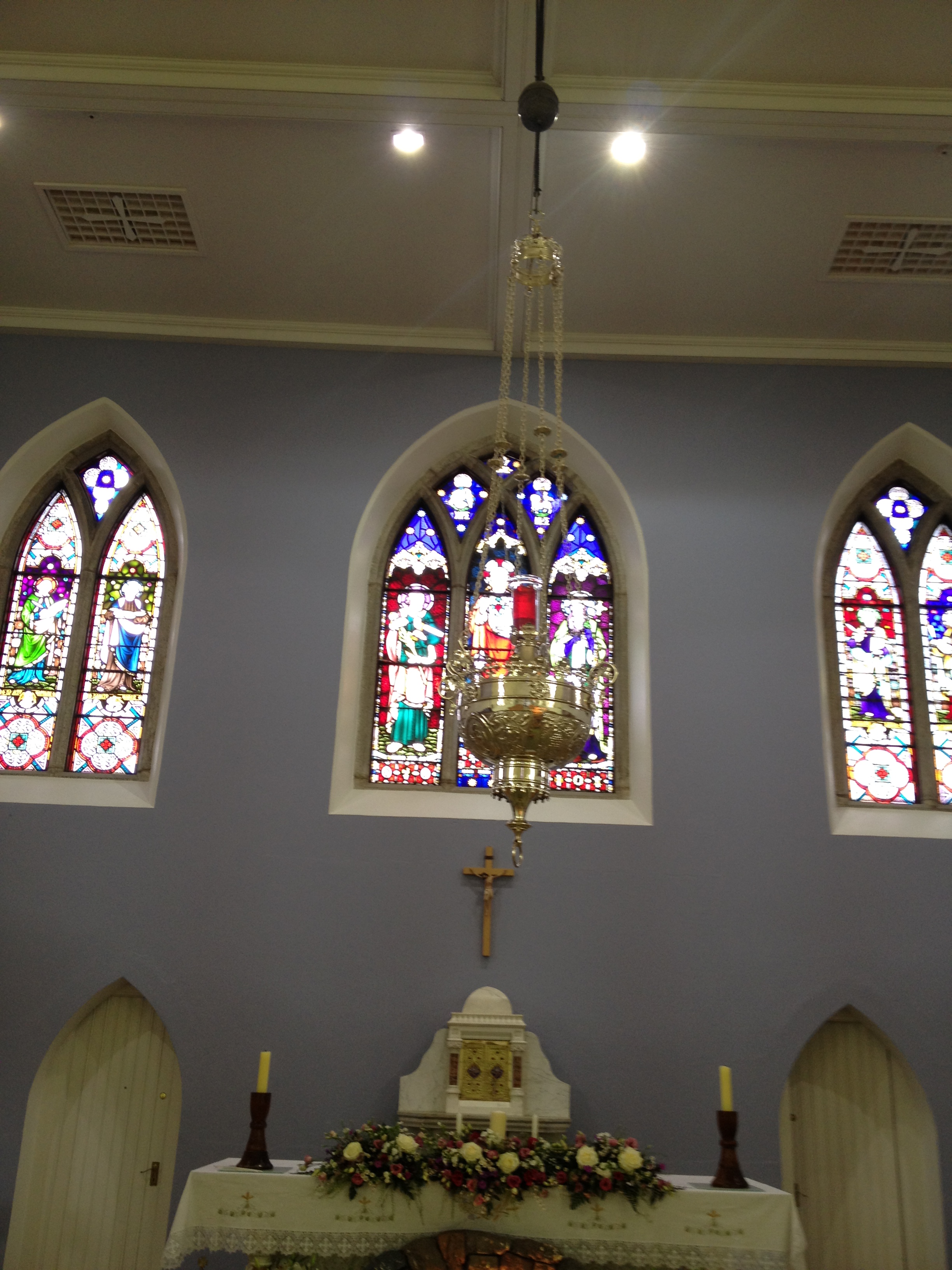 What is known about William Cotter's work other than being a successful farmer is that he was "of a good Irish family and connection highly respectable and esteemed alike by rich and poor throughout the entire western parts of Cork and Kerry. He was a large farmer holding close on two hundred acres of land, was always independent and in good circumstances gave a good deal of employment to the neighbourhood and his dealings with all classes were honest and upright. He was Land Agent to Lord Lisle and his kindness and generosity to the tenants on the estate are still remembered with gratitude by the tenantry…" — according to his daughter Eliza's sworn statement.
At a time long before today's technology of smart phones,  tablets, and Skype, William and Mary could only communicate with their daughter Anne Cotter through postal letters that traveled by sea.
Anne had immigrated to the United States in 1856 as a young teenage girl under the patronage of her uncle Daniel Sullivan.  She was a student at the Ursuline Nuns School at Galveston, Texas  and remained there until the end of the Civil War.
The relationship between William Cotter and his daughter Anne can be glimpsed in his request for a photograph and visit from her in the letter below:
Meenygorman, November 13th, 1857
Dear Affectionate Child Anne:
I received your letter of September 24th. It gives me and family the greatest pleasure imaginable to hear of your perfect state of health, your Uncles and their family and all your cousins as this leaves me and family and all the friends. Thank God for his kindness to us all.
My dear we are all doing well. Your sisters are in a comfortable way of living…
Dear Anne: I expect your Uncle Dan will send me his and your likeness or model by next letter if possible. Until I will see you both once more it would give your Mother and me and all the family the greatest pleasure to see it often.
My Dear. I hope your Uncle will not be offended for asking such. I see likeness come from America by many. So soon as I receive yours I'll strive to get your Mothers and mine to send to you both.
I expect your Uncle will fulfil his promise in having ye come to visit us so soon as possible where there would be thousands of welcomes. Many wants to persuade me I'll never see ye again. I would forfeit my life on your worthy Uncle's promise. My confidence is in God.
I'll have the pleasure of seeing ye shortly and my little family and Uncle John altho very delicate in health prays to God often to see ye once more. Do not forget sending the likenesses when convenient…
A blessing from God may attend you all and not forgetting you Dr. child Anne. I remain yours truly.
William Cotter
Nineteen years later, William Cotter died in 1876.
The following 1885 handwritten letter from William Cotter's son John to his sister Anne in Texas informed her of their mother's death.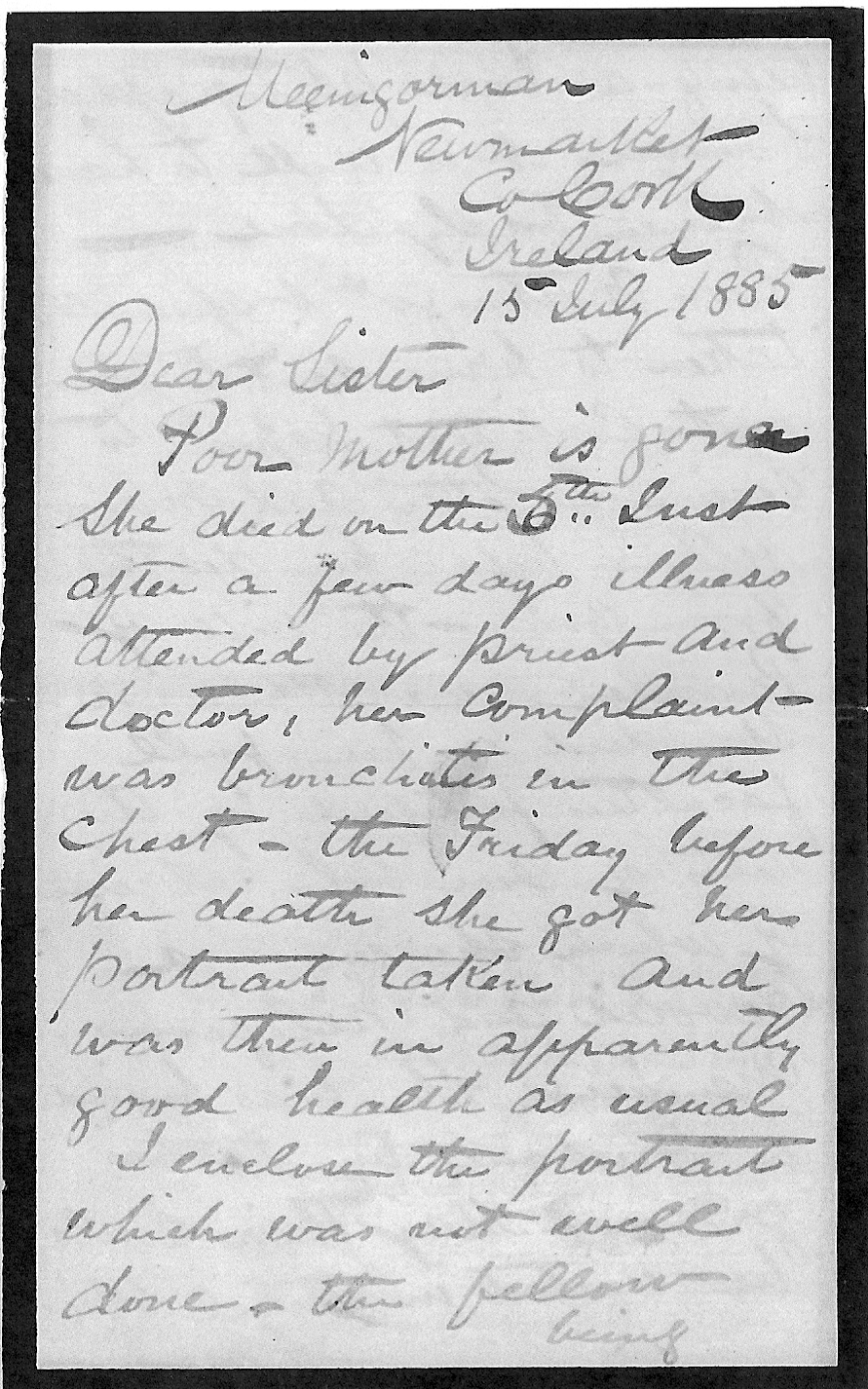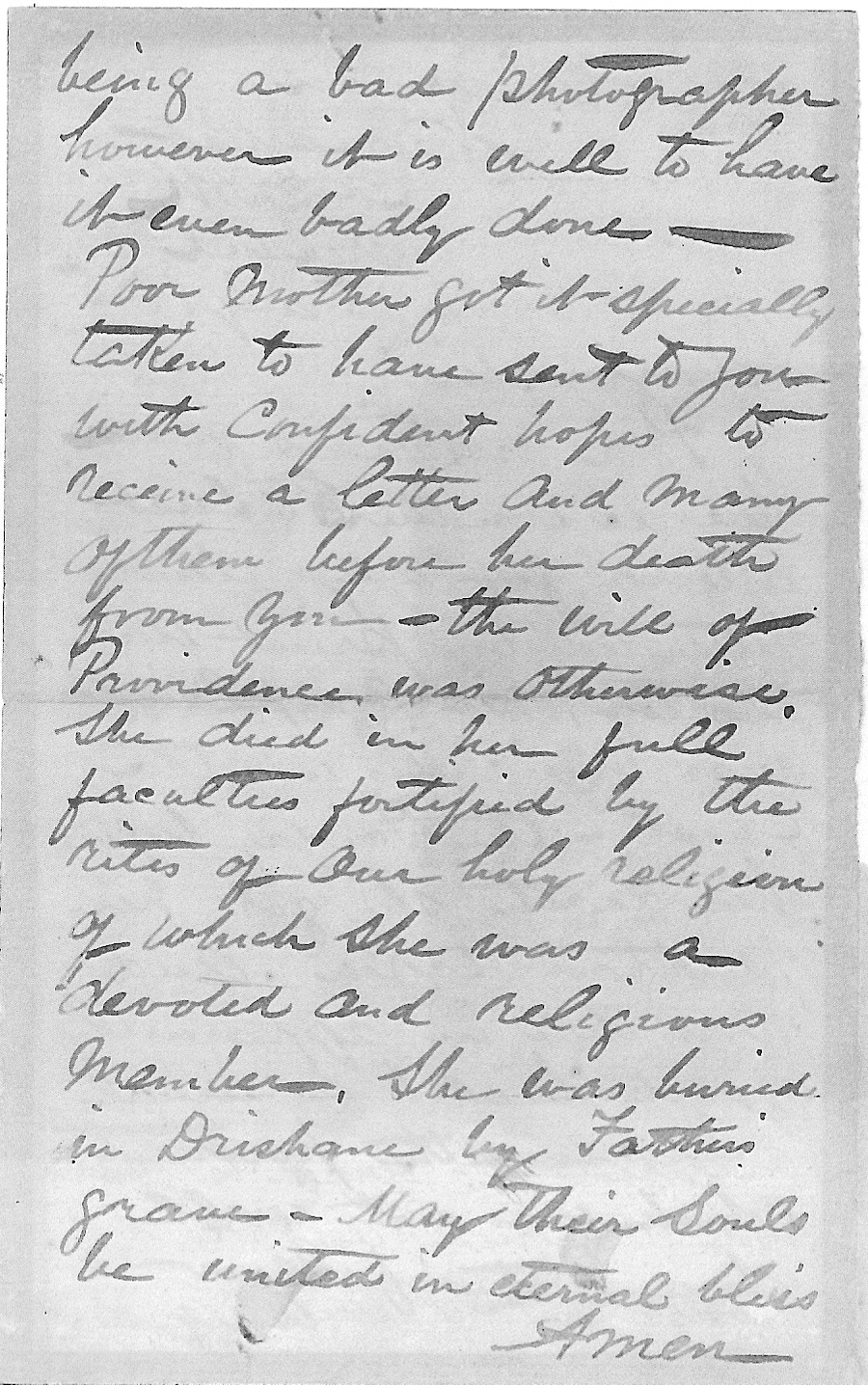 Nine years after the death of William, Mary Sullivan Cotter died in 1885.  She had been living with her daughter Eliza and son-in-law William Quinlan in Millstreet.   Mary's son John Cotter wrote to his sister Anne Cotter (Mrs. D. Sullivan) to tell her of their mother's death and her burial next to their father with the wish that "their Souls be united in eternal bliss."
William and Mary Cotter rest in peace in Drishane, Millstreet and their epitaph is said to "commemorate their goodness, charity, and benevolence."
As with other posts, once more there is a striking pattern of the archetype of a critical message that doesn't arrive or arrives too late.   Correspondence over years indicates William and Mary's ongoing desire for a likeness (photo) and word from their daughter Anne Cotter living in Texas.  Mary Sullivan Cotter had her photograph taken in good health and spirits only days before her death.   This final photograph was enclosed in the letter that Anne Cotter opened only to discover that her mother had just died.
References
Solemn Declaration in Newmarket, Co. Cork dated Feb. 8, 1894 by Eliza Cotter Quinlan regarding her father William Cotter
The Family of D. Sullivan, Compiled by John Cotter Sullivan, The Naylor Company, San Antonio, Texas, 1952
Sullivan-Clem Family Papers 1849-1956 located at the Daughters of the Republic of Texas Library, San Antonio