William Hammond was born about 1815 in Tipperary County, Ireland.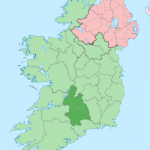 Very little is known about his life as no documented records can be found.  What exists are a few online queries by an untraceable great grandson posted in the 1990s.   William's story is sketchy at best!
At some point, William married Margaret Butler had seven children.  Nothing is known of Margaret's parents.
Two online genealogy queries by William's great great grandson John Stone (perhaps now deceased but at least untraceable as they were posted in 1997) give some hints.   William married Margaret Butler in Ireland about 1840.  They had seven children: twins Richard and Hester, Anne, William, Mary, Ellen and Catherine.
 William and Margaret's children:
| | | | |
| --- | --- | --- | --- |
| Child | Born | Married | Departed |
| Richard Hammond |  1/27/1849 Thurles, Tipperary, Ireland | Johanna Mahar | 10/19/1019 NY |
| Hester Hammond | 1/27/1849 | | |
| Anne Hammond | | | |
| William Hammond | | | |
| Mary Hammond | | | |
| Ellen Hammond | | | |
| Catherine Hammond | | | |
Margaret emigrated t0 Troy, NY after arriving by sea aboard the Great Eastern about 1863.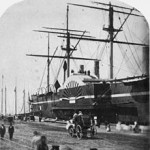 The ship had a short-lived but dramatic history — even with reports of being haunted!
She was accompanied by her children Richard, Hester, Anne, and William.  The fate of her husband William Hammond and the other children Mary, Ellen, and Catherine remains unknown.  Perhaps they perished before the voyage for there is no record of their arrival.
Margaret died before 1870 leaving her children to fend for themselves. William and Margaret's son Richard Hammond only would have been a teenager when he was orphaned.  He married at age 21, overcoming difficult beginnings and loss, he became a driven hard-working successful businessman.
William's death and burial remain unknown as does his wife Margaret.  They were my third great grandparents. Wherever they are, they are remembered here.
References
Rootsweb Query by John Stone
A history of the city of Buffalo: its men and institutions : biographical sketches of leading citizens